Dying Without a Will in Maryland
What happens if you die without a will?
Dying Without a Will in Maryland – MD Estate & Intestate Probate Lawyer
Dying without a last will and testament will mean that you cannot control your estate and the legacy you leave. The laws of the State of Maryland will instead decide what should and should not happen. This can cause some things to occur that you never would have wanted. Contacting an estates and wills lawyer in Maryland can avoid theses issues and let you control what happens.
What is a last will and testament?
A will is a legal document used in estate planning outlining your wishes regarding the distribution of your assets, but it is much more than that. Your last will and testament can address:
who receives the assets of your estate
how taxes from your estate will be paid
who will be the guardian of your minor children
whether your estate's assets will be held in trust
who will be the personal representative of your estate
Some people may think, I don't care what happens after I'm dead. But they may not realize the result of not having done any estate planning. Maryland law will determine who gets their estate and each of the above. Your estate assets could go to people you would have never wanted or be divided in ways you never considered. More than one person may believe they should be the children's guardian or estate's personal representative and chaos can start.
What happens if you died and don't have a will in Maryland?
Dying without a will can lead to many issues for your family. I listed above those things that you could have included in your will. By not doing so, some of the following issues could be the result.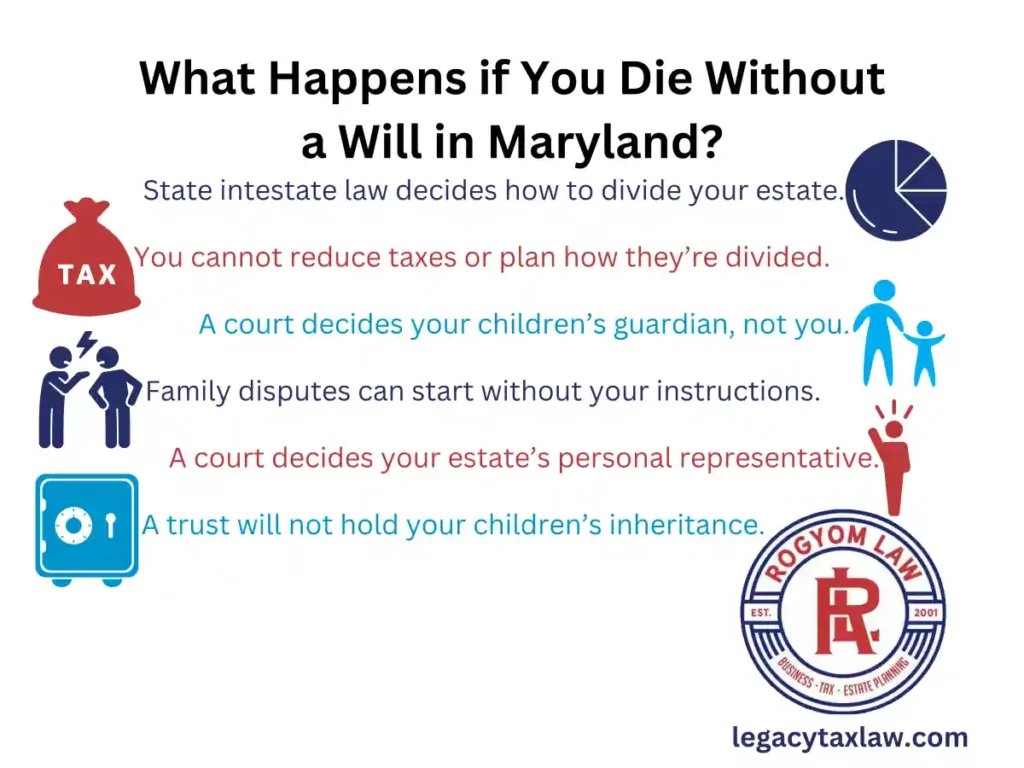 Your family can have issues with probate
With or without a will, your family starts the probate process by opening your estate with your county's register of wills and orphans' court. If you do not have a will, it would not be clear who will or would not be appointed as personal representative during probate. Family members may disagree who should be personal representative.
Sometimes family members hesitate or never step forward to open the probate estate. They may want to avoid the conflict. They may also fear the estate will not reimburse their expenses since it's unclear if they will become the personal representative. Or, even worse, the court may appoint someone you know should not be trusted as the personal representative. If you die intestate, the chance of estate litigation with a probate court rises substantially. Dying intestate means dying without a will.
If you die intestate, who will be the guardian of your children?
If you died without a will, you gave up your opportunity to name the children's guardian. Someone you may not have wanted may be the first to the courthouse to be appointed. The person you wanted may not even know to do so.
A judge could place your children in a poorly chosen home. The assets they inherit also will be under the control of that guardian and the child will have free access to the remaining assets when they turn 18. You and your spouse could have restricted their inheritance through a testamentary trust. Trusts allow a suitable adult to be its trustee that can invest and hold the inheritance. Trustees can distribute their trusts' property to the minor beneficiary when they believe it's needed. Instead, intestacy law gives the child their inheritance at a vulnerable age.
Ready to get started? We're Ready to Help.
Contact us now and we'll be happy to schedule a call or meeting with no commitment.
If we cannot assist you, we will gladly provide you with referrals.
Who inherits your estate's property if you died? 
Your estate assets will be divided during probate according to Maryland law for intestate estates. An intestate succession means an estate where there is no last will and testament. Do not assume you know how your estate would be divided from what you heard from friends or on television. Each state's succession law can be very different. What you heard may be perfectly correct in California, but not in Maryland.
Spouses usually only inherit a share of the assets under Maryland intestacy law
Many assume their surviving spouse will automatically inherit the entire intestate estate during probate. Under Maryland's intestacy law the only way a surviving spouse will inherit the entire estate is if the spouse who died: 1) had no children or other descendants and 2) had no living parents or, if living, was married to the surviving spouse more than five years. In all other cases when dying without a will, the surviving spouse will split the separate property of the decedent with the children or the parents in some manner. The decedent's spouse receives only half the estate in a scenario with minor children. In a scenario with only adult children or parents of a decedent who died intestate, the surviving spouse receives the first $40,000 of the estate and a half of the remainder under Maryland probate law.
If you and your significant other remain unmarried at the time of your death, Maryland intestate law does not consider them a beneficiary and will not provide them with any portion of your estate. Maryland does not have common law marriage rules that treat couples as married based upon their relationship or its duration. Unmarried couples should never postpone planning their estates.
What do children inherit under Maryland intestacy law after a parent dies?
If someone with living children but no surviving spouse dies without a will in Maryland, their children would inherit. Your children would inherit the entire estate in equal shares. If a child dies but leaves you with surviving grandchildren, then that deceased child's share would go to your grandchildren from that child upon your death. As discussed below, however, what the child inherits through an intestate succession will not be held in trusts. Without a trust, that child or grandchild may receive the property from your inheritance without adult supervision far too early in most people's opinion. 
More distant relatives as beneficiaries of a MD intestate estate
Maryland intestate laws first provide the inheritance to the surviving spouses and the decedent's children and other descendants. If there are none, then the intestate estate looks toward the decedent's parents and their descendants. Then, the intestate property of the estate goes to grandparents and their descendents and finally to the great-grandparents and their descendants.
The "descendants" mentioned would include siblings, nieces and nephews, aunts and uncles, cousins and similar. If you cannot find those potential beneficiaries, then the estate and go to qualified step-children and their descendants. Persons in the same category receive equal shares. If some of those beneficiaries die before the decedent, then their children's inheritance will be their parent's share in equal portions under state succession law.
The above is solely a summary of how Maryland probate court determines heirs under an intestate succession, and you should review the details of Maryland intestate successions in MD Code, Estates and Trusts, Title 3.
Property will not be held in trust, even if it absolutely should be.
By not having a will with testamentary trusts or some other estate planning done, Maryland probate law for an intestate succession will give your assets directly to the beneficiary and immediately become their property. This can lead to terrible personal and financial consequences for the beneficiary.
If the beneficiary is a minor or a young adult, they often lack the experience to manage their finances. For example, they can fall prey to investment schemes and the social pressures of their friends. If the beneficiary has drug or other vices, your property can fuel their habits. If the beneficiary has creditors, then those creditors can seize the inheritance you provided. Giving a gift outright to a child with a disability can lead to their losing their benefits. Proper planning with an estate attorney would have created a special needs trust. Trusts allow a disabled descendant to keep their benefits while protecting the probate property they inherit from the decedent.
If someone dies without a will, does the state take your property?
After running out of all potential heirs of the estate, the state probate court will be required to give the estate's assets to the state by escheat if you die without a will. I suppose you can at least be happy that it does not go to the general fund of the state. Maryland intestacy laws state the intestate assets go to the Maryland Department of Health or your county's school board. MD Code, Estates and Trusts, 3-105.
Is all of my property covered by my last will and testament in Maryland?
Not all of your assets will be subject to how you want them distributed in your last will and testament. Some of your assets may either have beneficiary designations or may be titled so it automatically transfers to another at the time of your death. Maryland law considers those to be non-probate assets. Your will cannot change the titling and beneficiary designations or the transfers at death that they cause.
This can either be good or a bad depending upon whether you titled and designated the beneficiaries correctly. For instance, maybe you want your estate to go to your spouse first and then in trust to your minor children. For example, if a life insurance policy or retirement account names your spouse and then names the children as the back-up beneficiary, then it goes directly to your children, not the trust. Another example would be joint account. Joint accounts will transfer to the joint owner, regardless of your intention in your last will.
A will and estate lawyer in Maryland often addresses those issues while drafting your last will and testament and the estate planning process. We would do this to make sure your estate plan works as you intend.
I want my Baltimore Orioles collection to go to my grandson in Towson, can I just tell my family before dying?
While you can hope that your family will honor your wishes, many things can prevent that from happening. Your family may not recall those discussions, others may question the truthfulness, or maybe someone just becomes greedy. You can only make sure your family honors your wishes by using the law and Maryland wills and trusts. Wills allow you to make specific bequests, so you can put into your planning documents that you want your grandson in Towson to receive your Baltimore Orioles collection.
What else are you missing?
If your family does not have its last wills, then there may be other things being overlooked as well. If you work with the best estate lawyers in Maryland, we usually address many of those issues. We provide advice on your property, what's required under estate law, and assist in your planning based on your information. Some documents we prepare as part of your estate planning package will include:
a medical power of attorney; and,
a living will.
We could also consider to use a living trust to avoid probate. When prepared by the attorney you can be assured that the documents work together and more fully serve your needs.
Jeff was a great attorney to work with on the sale of our business. When problems popped up for the buyer to close, his manner kept everyone calm, both us and the buyer, and he came up with great solutions.  Jeff's experience definitely shows, and we'll be happy to work with him again.     - Elizabeth B.
Our CPA recommended Jeff to help us with our estate planning and transferring our business to our kids. Jeff was a friendly guy and understood the business and personal issues we were concerned about with giving the business to our kids. He came up with a great plan that reduced the taxes and made sure the business would stay open after we retired. We think our estate plan we made with Jeff will really help our family after we're gone. We are happy our CPA recommended him and with the work Jeff did for us. - Tom D.